Teeth Whitening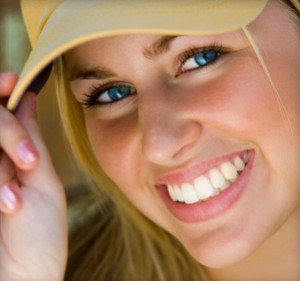 When you have radiant white teeth, you smile, laugh, and enjoy life more. A stunning white smile will leave a lasting impression on everyone who has the chance to talk with you. At Avenue Smiles, our high-quality teeth whitening methods will give you boosted confidence and a whole new look. We provide both take home and in chair whitening options.
Take Home Teeth Whitening
Many of our patients like whitening their teeth at home on their own time, but they want professional results. Drugstore teeth whitening kits are one-size-fits-all and the formula is not as strong as a professional formula. A teeth whitening kit created for you by Dr. Agarwal is more comfortable, protective, and effective than a drugstore kit.
With our take home teeth whitening option, you can whiten at times that are convenient for you–it only takes a few minutes while you get ready for bed, finish up work or homework, or put your feet up and relax. You will also enjoy brilliant professional results.
In Chair Teeth Whitening
If you want to enjoy incredible results within one short visit to your dentist, in chair teeth whitening might be the best option for you. When you get your teeth whitened in our office, you will experience the fastest results with the least amount of work on your part.
Dr. Agarwal will cater your teeth whitening experience to your unique needs–she will take into consideration your sensitivity levels and your desired shade of white. You can trust your dental professional to administer the whitening formula just perfectly for minimal sensitivity and maximum whiteness.
It's easy to achieve the brilliant white smile that you have in mind. Call us today at Avenue Smiles to set up your appointment with Dr. Agarwal. Our staff members will help you find a time and day that works perfectly for you.